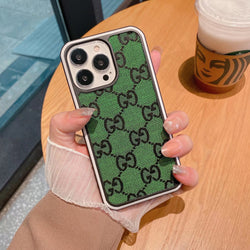 RETROFEMME
VINTAGE GG DENIM CASE (JADE GREEN)
Unsure of your iPhone model? Click here to find out.


This case is available for:
IPHONE 11
IPHONE 11 PRO MAX
IPHONE 12 or IPHONE 12 PRO (same size)
IPHONE 12 PRO MAX
IPHONE 13 or 13 PRO (same size)
IPHONE 13 PRO MAX

**LEATHER IS REPURPOSED FROM VINTAGE WALLETS, BAGS, SHOES, OR SCARVES.
DISCLAIMER: RETROFEMME IS NOT AFFILIATED WITH THE BRAND.